One of the most important aspects of any vehicle are the tires. Whether you're most concerned with safety, luxury, or performance, tires are the key to it all. Proper tires can help with traction, comfort, and more, while damaged tires can reduce your car's performance, which is why it's important to keep your tires in shape. All you need to do is find a tire shop near you that can help with tire repair in the Philadelphia, Center City, and Delaware County areas.
For all your tire repair needs, visit the service center at Family Chrysler Jeep Dodge Ram. Our highly trained technicians are tire experts and can handle whatever tire repair you're looking for, whether you need reliable all-season tires on your Charger or off-roading tires for your Wrangler. Learn more about the services we offer, as well as some important tire information Below. Then, schedule a tire repair service near you in Philadelphia, PA, or shop from our tire shop.
The Importance of Tire Care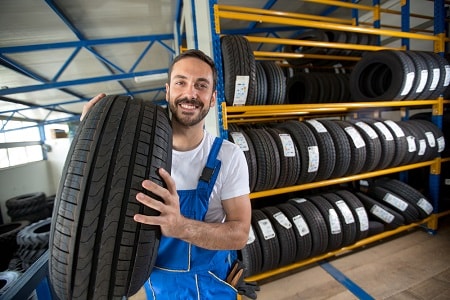 Your tires are the only parts separating your vehicle from the rough pavement. It's in everyone's best interest to keep them in top shape, ensuring safety on the road for you, as well as though around you. The most obvious downside of the lack of tire care is that you can lose control of your vehicle. If your tire goes flat or suffers a blowout, controlling your vehicle becomes extremely difficult, especially if you're traveling at high speeds. This can result in dangerous situations like possible collisions.
Proper tire repair is also one of the best ways to get the most out of your vehicle's fuel economy. If a tire is worn, your engine is going to have to work harder to compensate for a less effective tire, which means more fuel is being burned than necessary. Overall handling is better, as well with healthy tires. A tire in need of repair could cause your vehicle to pull in one direction, even when you're trying to drive straight.
Signs You Need Tire Repairs & Replacements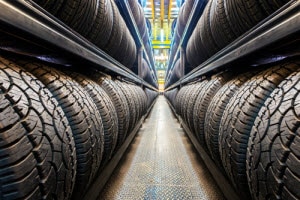 When your tires of in need of care, they will let you know will providing signs that something is wrong. To ensure your tires are healthy and safe for the road, watch for these following warnings.
Tire Warning Light - When the warning light regarding your tires is illuminated on your dashboard, it's a tell-tale sign that there is an issue. If your vehicle is equipped with a tire-pressure warning system, it will notify you when it detects that your tires are low. You can either fill up the tire to the proper PSI which is stated in your owner's manual or take your car into your authorized dealership's tire shop. Here, they can tell you exactly which tire is low and why.
Low Tire Tread - Have you ever noticed the grooves and bumps on your tires. This is the treading in your tire, and it is incredibly important as it provides the traction you need to grip the road. Over time, this tread can diminish, which causes your tires to slip and slide while driving. Regular tire rotations will help prevent this from happening quickly, but it could also be a sign that your tires are damaged or misaligned. To fix the issues or repair your tires, schedule an appointment at your local certified tire center as soon as possible.
 Cracked Tires - If you are seeing cracking, holes, or bulges on the sidewalls of your tires, it's time to repair them immediately. This can cause air to leak from your tires, as well as future blowups, which might cause even more damage to your vehicle.
Tire Vibration - Tires vibrate on a normal basis, especially when traveling on uneven terrain. However, if you're noticing them doing so more on flat surfaces or something just doesn't feel normal, it's best to have your tires assessed by a professional.
How Long do Tires Last?
Even with proper care, tires still have a limited lifespan. And though tires tend to last around four years or more, they could need replacing sooner. This is where the penny test comes into play. If you're wondering whether your tires need to be upgraded, take a penny and place in between the treading of your tires. Does Lincoln's head appear? If so, your tires are not at the safe 2/23'' threshold, which means new tires are probably needed.
If you cannot see his head, you probably have a few more miles left on them. However, to ensure they stay safe for the roads, regular tire maintenance is important. Get them assessed and rotated every time you schedule an oil change, so you can keep on top tire care.
Visit Our State-of-the-Art Service Center
At Family Chrysler Jeep Dodge Ram near Philadelphia, we have dedicated ourselves to premier customer service before all else and that's not limited to just our showroom. You can expect the same service from all our expert technicians as well. Couple that with their years of experience with tires, and you can be sure all your tire repair needs will be addressed with the quality and speed you deserve.
If your tires are beyond repair, don't worry. We can still help. With our extensive tire store, we're sure to have the right fit for your vehicle, whether you're looking for winter tires, all season tires, or off-roading tires for adventures off the beaten path. Visit us or call to schedule your tire repair today!