If you're looking for off-road adventures around the Philadelphia, Center City, South Jersey, and Delaware County areas, the 2018 Jeep Wrangler JK Unlimited is a great option.
While this vehicle is built to be rugged and tackle the toughest terrain, it still needs regular maintenance to be kept in shape. Fortunately, it's easy to take care of your Wrangler with the help of Family Chrysler Dodge Jeep Ram's handy guide.
Check out our Jeep Wrangler JK Unlimited maintenance schedule and discover what you have to do to keep your Wrangler in top shape for years to come.
10,000 Miles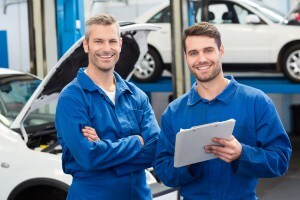 Your first major service appointment should occur when the vehicle hits 10,000 miles. This is when you'll get an oil and filter change. You'll also get the following work completed:
Rotate tires.
Inspect battery, and clean and tighten terminals as required.
Inspect automatic transmission fluid, if equipped with dipstick.
Inspect brake pads, shoes, rotors, drums, hoses, and parking brake.
Inspect engine cooling system protection and hoses.
Inspect exhaust system.
Inspect engine air cleaner, if using in dusty or off-road conditions.
Inspect all door latches for presence of grease and reapply, if necessary.
20,000 Miles
After 20,000 miles, you'll get the above work done, plus:
Inspect CV/Universal joints.
Inspect front suspension and tie rod ends and replace, if necessary.
Inspect front and rear axle fluid.
Inspect brake linings, replacing as necessary.
Adjust parking brake on vehicles equipped with four-wheel disc brakes.
Replace air conditioning/cabin air filter.
30,000 Miles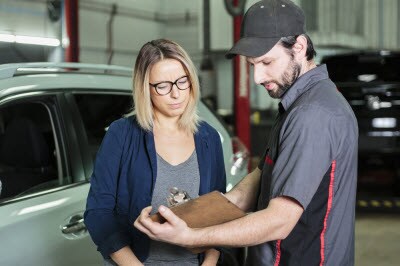 The 30,000-mile mark will follow the same steps as the first 10,000-mile check. However, you'll also add these additional steps:
Inspect transfer case fluid.
Replace engine air cleaner filter.
Replace spark plugs, if equipped with a 2.0L engine.
Change the manual transmission fluid, if using the Jeep Wrangler JK Unlimited for trailer towing or heavy loading.
60,000 & 100,000 Miles
The maintenance schedule follows the same pattern until you hit 60,000 miles. Here, the only thing that's different is changing the transfer case fluid, if you're using the vehicle for fleet or frequent trailer towing.
If the JK Unlimited is still running well after 100,000 miles, then you've done a great job at keeping up with the regular maintenance. You'll follow all the steps listed above, plus add the following:
Replace spark plugs, if equipped with a 3.6L engine.
Flush and replace the engine coolant.
Flush and replace the intercooler, battery, and Motor Generator Unit coolant, if equipped.
Inspect and replace PCV valve, if necessary.
Schedule Service for the Jeep Wrangler JK Unlimited
If your Jeep Wrangler JK Unlimited needs maintenance, the service center at Family Chrysler Dodge Jeep Ram has got you covered.
Our expert technicians have experience with the Wrangler JK Unlimited and can perform any service you might need. So, if you live near Philadelphia, Center City, South Jersey, or Delaware county, visit us or call to schedule your service appointment today!