One of the most thrilling ways to get through the streets of Philadelphia, Center City and Delaware County is in a powerful muscle car. If you want to get the most power under the hood, nothing can offer what the Dodge Charger can. This powerful vehicle offers unrivaled strength, but even it needs regular maintenance to stay in shape.
Putting your Charger on a maintenance schedule is the best way to ensure you get the most out of this powerful American muscle car. If you fail to do so, you could be facing serious issues down the line with huge mechanical problems not easily fixed. Learn more about the Dodge Charger maintenance schedule and discover what you need to do to keep yours in shape.
6,000 Mile Service
Your basic service for the Charger happens after 6,000 miles or about six months, whichever comes first. The main thing here is an oil and oil filter change. Oil is the lifeblood of your Charger, so you need to make sure it's fresh and ready to go. Go ahead and get your tires rotated too to ensure even wear. Remember to repeat this service and every subsequent service in regular intervals to stay on top of your Charger's health.
12,000 Mile Service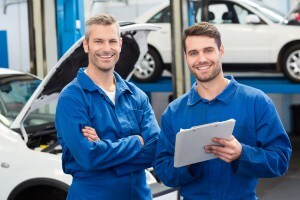 At this service, you should take a serious look at your brakes. The Charger has a lot of power behind it, so the brakes have to work extra hard to add the stopping power you need. In addition, you should get your cabin air filter replaced and make sure you get your hoses and belts inspected. They're probably fine, but it never hurts to check.
24,000 Mile Service
By this time, your tires have probably taken quite the beating. Don't be surprised if they need to be completely replaced. In addition, your brake pads need to be replaced at this point. After 24,000 miles, they've essentially been used to drive completely around the planet, so serious wear isn't surprising.
48,000 Mile Service
For this service, you'll be seeing quite a few replacements. It's time to flush and replace a few of your fluids like transmission fluid, engine coolant and brake fluid. You should also go ahead and switch out your timing belt and drive belt.
96,000 Mile Service
After you've had your Charger for this long, it might be time for more serious repairs. The most extensive will be replacing your motor mount and suspension bushings. It may seem tedious and costly, but the future problems it prevents are worth it. Don't forget to have your hoses themselves replaced in addition to having the fluid flushed and replaced.

Service Center at Family Chrysler Jeep Dodge Ram
Keeping your vehicle on the Dodge Charger maintenance schedule is easy if you know where to take it. For quality service in the Philadelphia, Center City and Delaware County areas, look no further than Family Chrysler Jeep Dodge Ram's service center. Our experienced technicians know the Charger inside and out, so you can depend on speedy and quality service. Visit us or call to schedule your service appointment today!