When you're looking for a reliable vehicle to transport your family around Philadelphia, Delaware County and South Jersey, there's no better choice than a minivan, particularly if you choose the Chrysler Pacifica. The Pacifica is one of the best minivans on the market today, providing both reliability and excitement.

If you want to make sure that your Pacifica stays running the way your family deserves, it's important that you follow your manufacturer's recommended maintenance schedule. Learn about the maintenance schedule for the Chrysler Pacifica and find out how you can easily schedule maintenance at Family Chrysler Jeep Dodge Ram.
Oil Change Interval
Periodically, the engine oil light in your Chrysler Pacifica will activate, indicating that it is time to change the oil and filter in your vehicle. When you schedule your oil change, several other maintenance tasks should be performed to ensure your car is functioning optimally.
First, you need to have your tires rotated to verify that they are wearing evenly. Secondly, your battery should be inspected, and the terminals should be tightened and cleaned. Your brake pads, shoes, drums, rotors and hoses also need inspection. Other tasks that you should schedule at your oil change include an inspection of your exhaust system, a check of your engine cooling system and an engine air cleaner inspection.
20,000 Mile Check
Once you've accumulated 20,000 miles or have driven your Pacifica for two years, you will need to schedule a maintenance check. Several tasks will need to be completed at this maintenance appointment, including a CV joint inspection, an inspection of your parking brake/brake lines and a cabin filter replacement. Your boot seals, front suspension and tie rod ends should also be inspected.
These tasks should be repeated every 20,000 miles.
30,000 Mile Check
Your next service appointment should be scheduled at the three-year or 30,000-mile marker. This appointment should be very brief, as it only requires changing your engine air cleaner filter.
60,000 Miles
The 60,000 mile maintenance check will combine all the tasks of the 20,000 and 30,000-mile appointments.
100,000 Mile Appointment
Once your 2018 Chrysler Pacifica reaches the 100,000-mile mark, a more extensive maintenance check will be necessary. This service appointment covers the tasks of the 20,000-mile check in addition to several other items. For example, this appointment will include a change of your spark plugs. Your engine coolant will also need to be flushed and replaced. Finally, your PCV valve will need to be inspected and, if necessary, replaced.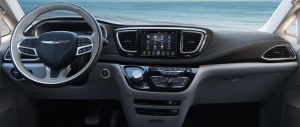 Schedule Chrysler Pacifica Maintenance
As a responsible car owner, you want to be certain that your Chrysler Pacifica lasts as long as possible, and the best way to do so is by following the manufacturer's recommended maintenance schedule. When you're ready to schedule maintenance for your Chrysler Pacifica, you need to visit Family Chrysler Jeep Dodge Ram.
The service and parts department at Family Chrysler Jeep Dodge Ram can perform every task on your manufacturer's maintenance schedule, so that your vehicle stays on the road for thousands of miles to come. We proudly serve customers from Philadelphia, Delaware County and South Jersey, and we are ready to help you in whatever way you need.