When you're in the market for a pickup in the Philadelphia, Center City and Delaware County areas, you're probably more concerned with capability than anything else. Nothing has the towing power of a pickup and the 2018 Ram 1500 is among the best. However, there is something more important than capability.
Safety is the most important factor in any vehicle which is why it's essential to be familiar with its safety ratings before you make a commitment. Learn more about the 2018 Ram 1500 safety ratings and discover if this incredible pickup can offer all the protection you and your crew deserve.
Frame Steel Strength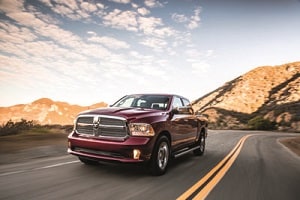 The Ram 1500 has incredible towing power, and this is possible in large part to its incredibly strong steel frame. With a strength of 50,000 psi, this incredible truck can handle more stress than just about any other vehicle on the road. An added bonus of this rigid frame is that it protects the passengers inside from impacts.
Side-impact door beams were implemented into the frame to increase rigidity for the sole purpose of passenger protection. Don't think that the 1500's safety features are just a byproduct of its towing ability. You're protected from front end impacts as well by dynamic crumple zones designed to direct kinetic energy around the cabin.
Electronic Stability Control
Safety is more than just having a strong chassis that can handle impacts. You need technology as well to make sure you and your passengers are adequately protected. This incredible piece of advanced tech ensures that you maintain control of your Ram 1500 at all times, even in the most adverse conditions.
The hill start assist feature offers a greater window to switch from the brake to the gas when you're going uphill. If you plan to do a lot of hauling, the trailer sway control feature keeps the trailer under control. The brakes have also been enhanced with rain brake support, ready alert braking and brake assist that work together to offer unrivaled stopping power.
Safety Ratings
Unless a vehicle is put through crash tests, all these features are just theoretically useful. Fortunately, the Insurance Institute for Highway Safety has put the Ram 1500 through a series of crash tests such as side impact, moderate overlap front and rear crash protection which the 1500 passed without issue.
Another common standard is the rating given by the National Highway Traffic Safety Administration. Earning an overall 4 stars, the Ram 1500 is among the safest trucks available. In side crash ratings, it earned a perfect 5 stars likely due to the side impact beams and sturdy chassis.

Test Drive the 2018 Ram 1500
Come see the Ram 1500 for yourself at Family Chrysler Jeep Dodge Ram. The 2018 Ram 1500 safety ratings are just one appealing factor regarding this incredible pickup. Our friendly team can show you everything else the Ram 1500 has to offer and help you decide whether or not it's right for you. You deserve to be satisfied driving your next truck through the streets of Philadelphia, Center City and Delaware County for years to come. Visit us or call (215) 596-4371 to schedule your test drive today!