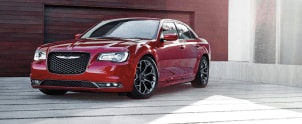 At Family Chrysler Jeep Dodge Ram (CJDR), we want car shoppers in South Philly, Fishtown, Northern Liberties, Center City, and Delaware County to find the right vehicle for all their driving needs. Completing automotive research can be tough; that's why we've provided vehicle comparisons for every Chrysler, Dodge, Jeep, and Ram in our inventory. Our car comparisons are excellent resources for learning about the vehicles on your shopping list, so feel free to reference them throughout the shopping process.
Chrysler Comparisons
2017 Chrysler 200 vs. Toyota Camry
2017 Chrysler Pacifica vs. Chevy Traverse
Dodge Comparisons
RAM Comparisons


Jeep Comparisons


Why Read Vehicle Comparisons?
When you're shopping for a new vehicle, side-by-side car comparisons can help you make an informed decision. Seeing how competing cars perform next to each other can show which ones are best for your needs and help you reach a purchasing decision. Whether you're considering a Chrysler, Jeep, Dodge, or Ram, reading car comparisons come in handy when you need help narrowing down your options.
Reading our car comparisons will also prepare you for test drive day. We provide a complete snapshot of each vehicle's engine lineup, styling, available technology, and more, arming you with information for when you visit a dealership. Family CJDR strives to make your car shopping experience as easy as possible, and our vehicle comparisons are an excellent place to start learning about the similarities and differences between the models you're considering.
Compare Cars at Family CJDR
On this page, you'll find vehicle comparisons for every model in Family CJDR's inventory. We encourage you to read them before visiting a dealership in South Philly, Center City, Fishtown, Northern Liberties, or Delaware County because they're designed specifically to help you find the right car, truck, or SUV for your driving needs. When you're ready to start researching your next vehicle, read our side-by-side car comparisons to find out how the cars in our inventory perform next to competing models from brands like Volkswagen, Chevrolet, Nissan, and more.
If you have any questions along the way, feel free to contact Family CJDR online or give us a call.
Additional Resources